| | | | |
| --- | --- | --- | --- |
| | Practical Steps To Greater Peace, Hope, Love And Joy | | |
| | | | |
Conscious Living
The Newsletter of The Conscious Living Foundation
Each of these newsletters contains a large collection of articles, poems, affirmations, recipes, humor, stories and quotations. Despite the fact that some of the early issues were originally published a few years ago, we believe you'll find their content still supportive of your desires to grow and change.
We Need Your Help!
If you would like to make a donation (even $1.00 is a help), please click the "Donate" button.
If you would like to make a recurring donation of $5.00 per month, please click the "Subscribe" button.
(This equates to 16 cents a day and can be cancelled at any time.)
Thank you!
By helping us, you are supporting the spiritual growth of tens of thousands.
Volume One, Issue One, August, 2002
Volume One, Issue Two, September, 2002
Volume One, Issue Three, October, 2002

"And what is it to work with love? It is to weave the cloth with threads drawn from your heart even as if your beloved were to wear that cloth. It is to build a house with affection even as if your beloved were to dwell in that house. It is to sow seeds with tenderness and reap the harvest with joy even as if your beloved were to eat the fruit. It is to charge all things you fashion with the breath of your own spirit..." Kahlil Gibran - from "The Prophet"
Listen to Kahlil Gibran's masterpiece on CD. Envelope yourself in its mystical poetic wisdom instead of listening to the radio and see the difference in your own life. The Prophet Unabridged - $19.98 (Two CD set)
Volume One, Issue Four, November, 2002
Volume One, Issue Five, December, 2002
Volume Two, Issue One, January, 2003
Volume Four, Issue Eight, August, 2005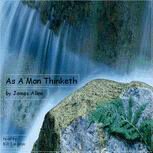 If you don't have time to read "As A Man Thinketh" by James Allen, try listening to it while you drive or go out for a walk. Make use of your time to improve your life.
"He who has conquered doubt and fear has conquered failure. His every thought is allied with power and all difficulties are bravely met and wisely overcome. Thought allied fearlessly to purpose becomes creative force."
This book has inspired millions to begin again, to realize their power to transform their own lives. Now is the time for you to renew your promise to yourself. Listen to the CD every day and feel the difference. As A Man Thinketh $14.95
Volume Four, Issue Nine, September, 2005
Volume Four, Issue Ten, October, 2005
---
- Free Newsletter -

To receive regular updates on new additions to the site, lots of inspiring articles and essays and first opportunity to download our latest free E-books and free audio and video files:

---
| | |
| --- | --- |
| | Sign Up For Our Newsletter: |
Please be assured that your email address will not be sold, rented
or given to any other organization or individual.
To See Our Prior Newsletters, Click Here
---
If You Would Like To Make A Donation
To partially cover the costs of maintaining this site,
Please click the "PayPal" button below.
Thank You for your support.
Bulletin Board Products Free E-Books Free Downloads Resources
Home Classes What Is CLF? Quotations Prayer Affirmations Inspiring Stories