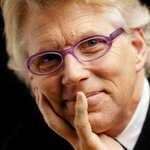 Becoming an Elder
By Steve Roberts
CoolMindWarmHeart.com
As of today, my wife and I are officially elders in our immediate family. With the passing this afternoon of my mother-in-law, 93, whose moniker among her five kids and their kids is Racy Rita, the generation of parents that preceded us is no longer. Every life event, my experience tells me, is a call to grow evermore love. I'm not saying I know how it all works, or why, but that nevertheless is my sense of things. How could it not be inevitable, then, that some of those calls come dressed in irony, anguish and not a little bizarre humor?
Rita's transition, a welcome release at the end of a nearly decade-long engagement with Alzheimer's, occurred in the same week that my beloved, Rita's youngest child, was diagnosed with what might be a life-ending condition. We'll know whether she has cancer before I complete this essay. Meanwhile, my bride will be in the hospital, hopefully alive and recovering from surgery but nonetheless absent, when her mother is buried next to her dad.
Whether in modes gruesome or playful, simple or profound, the universe, I find, is relentless in encouraging us to lighten our attachment to how we feel things ought to be. How we come to hear and follow that encouragement is the story of our life, or lives, if you wish, over countless incarnations. Since elders are among the touchstones by which we take the measure of our choices, it's a privilege to know ones who have chosen to be fortified, rather than diminished, by adversity. In a way that was sometimes unsettling to observe, this is what Rita taught me, and others I'm sure, as she lost her mind.
As it is for most of us, losing her mind was among Rita's biggest fears. She cherished academic achievement, the status of intellect, the power of will, the virtue of hard work, the passion to learn, and the guidance of Jesus to do the right thing. Yet, she also knew the fragility of both life and sanity.
Rita was in high school when the Depression hit, and not 20 when her dad, proprietor of a women's haberdashery, died of heart failure, leaving a wife and five daughters. Somehow, Rita, daughter number two, completed college, the sole sibling to do so. She became a teacher, eventually teaching English to several generations of boys at St. Paul's Choir School in Cambridge, Massachusetts. Despite the scarcity of teaching positions during the Depression, one story goes that Rita landed her first job without even applying. A neighbor, a local school principal, looking out the window of his home, regularly observed Rita the college student at her bedroom desk burning the late-night oil. When the principal had a teaching position to fill, he knew just where to find a candidate with the dedication he desired.
Rita's "guy," as she called her husband, Bill, was cut from similar cloth. Both of Bill's parents died within a couple of years of one another when Bill was in his teens, his older brother a student at Harvard, his younger sister at home. So upon graduating from Boston Latin high school, Bill put aside his college aspirations to assume responsibility for supporting himself and his siblings. He went to work for the Boston Globe as a fifteen-dollar-a-week copy boy, retiring four decades later as one of the paper's editors, and, in the process, starting a family with Rita and paying cash for the college education of each of their five children. Bill's brother never completed Harvard. Mental illness intervened, leaving him institutionalized for most of the rest of his life. Bill himself, husband and father, wrestled with a condition that professionals today call bi-polar, one that is commonly treated with a pill but in Bill's time led to the sort of electric shock therapy that caused many patients, Bill included, to lose their teeth. Meanwhile, for years, Bill arose at 4 a.m. to head off to the Globe. Rita fixed his breakfast, finished grading whatever of her students' work she hadn't completed the evening before, did a load of wash, made lunches and breakfasts for her children, then got them and herself off to school. At promptly 5:30 every weekday afternoon, she would serve her family a full-course dinner, which, fancy as it sounds, was nothing compared to the dinner she served every Sunday after mass.
As their families bloomed, Rita, her four sisters, Bill's sister, and whatever respective spouses and kids there were, usually lived close enough to one another that someone could barely sneeze without the entire clan gathering to commemorate the event.
The home of Rita and Bill, to family, friends and all other manner of guests who regularly crossed the threshold, was a home of ideas, opinions and lively tussles over the issues of the day, from the White House to the Red Sox. There was no greater compliment than to say that someone was smart. No life was more revered than the life of the mind.
It was seven years ago—June first, 2000—when Rita began the nursing home phase of her life, the phase that ended today. A week earlier, the impending move weighing on Bill (Rita unaware for all intents), I spent a few days at their home as housekeeper and companion. Ordinarily, they both retired for the night at the same time. One evening, however, an hour earlier than usual, Rita announced that she was worn out and was off to bed. Bill and I sat at the kitchen table. He was grateful to share his feelings with Rita out of earshot. "It's all terrible right now," he said. We'd been talking maybe half-an-hour when Rita reappeared, agitated. She said she didn't understand what people wanted from her, that she had been all ready to meet us on the corner, and why did we go off and do something while she was making supper, etcetera, etcetera.
Bill suggested that maybe it was time for the two of them to go upstairs to bed. That seemed a good idea to Rita.
An hour later, as I was washing some dishes, Rita wandered in followed by Bill, his face a shape I'd never seen before, making him look ten years older. As he spoke I realized his false teeth were out. His lips and cheeks flapped around vowels and consonants as he said, "Is there something you can do? She won't let me sleep. She keeps talking to me."
The only thing I could think to say was, "Rita, would you like to sit with me in the sun room for a while?"
"Oh sure," she said.
The sun room, home to many plants of Rita the gifted gardener, was where she and Bill did most of their reading. Invariably, the day's Globe and a stack of books sat on a coffee table between two comfortable chairs. Across the room, their television.
Bill went back to bed and Rita and I watched Masterpiece Theater. The story was about a village priest in World War II France helping his town deal with Nazi occupation. One thread of the story was a young boy. Defying a prohibition, at any hour of the day or night, he broadcast for all to hear on a wind-up record player patriotic French music. The Nazis eventually captured him and executed him. As the boy stood before the firing squad, Rita, who had been completely silent throughout the program, said, "That's just what it's like for me."
A month later, I accompanied Bill to visit Rita in her Alzheimer's residence. This would be only the second time since Rita left their home that Bill felt able to see her. It tormented him to have no answer to Rita's pleas. "Oh Bill," she said that day, "we have only a short time left, and I want to spend it with my head on your chest. You are my love, my dearest friend. It makes no sense that we are not home together, caring for one another. When it's time, I want to go—'Bing!'—to heaven with you. Let's go home, please."
Two weeks after that, Bill, my wife, plus one of our dearest friends and I visited Rita. Rita's home was a fourth floor wing that included a solarium that looked out over the tops of oaks at a Boston neighborhood skyline. She told us she sometimes came to this room and tried to smash a window so that she could climb out and fly home. The Big Home, heaven, she meant. Gritting her teeth and swinging the side of her fist toward the glass, she said, "I go just like this."
"Now Rita, don't say that," Bill said.
"But I do," Rita said. "This is no place for me." She then stood up and walked over to Bill and began caressing the top of his head with her hand, looking him in the eye and smiling as if to say, "There, there, my Bill, you just don't understand."
While Alzheimer's was the equivalent of a firing squad for Rita, she was much more than a victim up against a wall waiting to die. The day after she and I watched Masterpiece Theater, Rita accompanied me on an errand by car. Mostly we just drove around. The subject of Jesus came up. Rita said, "I pray to Jesus every day to take me to heaven." She paused. "But so long as he chooses to leave me here I am going to enjoy myself."
A monk of my acquaintance has said that the most courageous prayer he knows is: "Lord, change no circumstance in my life; change me." Similarly, I know of no greater form of self-love than the commitment to enjoy ourselves. Its greatness lies in the fact that it is explosive. The 19th century Hindu swami, Sri Yukteswar, said, "The power of unfulfilled desires is the root of all of man's slavery." To truly enjoy our self, then, requires that we surrender our attachment to every single desire. Alzheimer's, in my view, is a sacred gift to the human family—to those who live and die with it; to those who know and love them; and to those of us aware that the disease eventually may consume us—because Alzheimer's demands that either we broaden our perception of what it means to be human, or live in the misery of unfulfilled desire. I wonder if Rita lived so long with Alzheimer's because it had so much to teach her, and she, ever the student, ever the lover of Jesus, was willing, despite waves of despair, to stay alive long enough to learn all she could.
I met Rita on her 62nd birthday, 31 years ago. I was not ideal son-in-law material for a woman who had spent much of her life mentoring choir boys. I wore a beard, an earring and carried a purse. I'd been married and had fathered a son, then 13. It helped that my alma mater was Amherst (i.e., I was certifiably smart)—but not much. My wife says that her parents didn't readily welcome any of their children's partners. Over the years, what created a bridge for Rita and Bill as it pertained to me was that their daughter and I were obviously in love, my life story revealed a hunger for learning, and I respected them. Among the lessons I've learned only in hindsight is that nobody can have too many healthy parents, or children for that matter. What favor, then, that the universe was offering to me a set of parents in their sixties, and to them a son in his thirties! Absent the complexities of more common parent/child relationships (and, because we each had experienced those complexities, a certain clarity about what wasn't worth getting excited about), we grew to relish the chance to give one another what all too few children and parents exchange; indeed, what, human to human, may be life's most precious gift: acceptance. That evening when Bill and I were at the kitchen table and Rita reappeared from bed, distressed, she was naked except for a camisole. What is striking to me about the situation was Bill's lack of discomfort at my presence. Here was a man of propriety who wasn't flustered a bit; so seamlessly had we become part of one another's lives that we both knew that Rita's nakedness in that moment was irrelevant. Only love mattered.
Naturally, there came a point when, by any traditional standard, Rita no longer had even flashes of mental acuity. And yet, there was much going on inside her. Nonsensical her words may have been to the rational mind, but her tone, cadence and energy was that of a woman coming to terms with the voices she'd been carrying around in her head for much of her life. Many were the voices of those mind parasites we all are familiar with: unforgiveness, guilt, remorse, blame, inadequacy, judgment and the like. And some were the voices of her heart: so full of beauty her face glowed as if with the vision of her beloved Jesus. I've wondered on occasion what it is that Rita won't have to meet again in her next life because, through Alzheimer's, she let go of her attachment to it in this one. My experience of Rita is that, as she lost her mind, she grew in awareness beyond ordinary human comprehension of what was sacred. From that part of her that was accessible to others only heart-to-heart, I felt Rita's amusement that her shifting priorities included starting every meal with dessert.
Along the way, Bill became a resident of the nursing home, eventually losing enough of his own mind that he joined Rita in the Alzheimer's unit, where he died three years ago—Rita, a silent witness in a wheelchair next to his bed. I didn't attend Bill's funeral, spending the morning instead with Rita. As I often did, I brought her a couple of chocolate donuts. And also as I often did, I knelt on one knee by the side of her chair so that we might say hello eye-to-eye. I spoke to her often whenever we were together but I said only things like, "I love you, Rita," and "I am grateful you are in my life." On this day, however, as Bill's funeral was taking place a few blocks away, I also said, "Today is a celebration of your Bill, Rita." At that moment, Rita did something she'd done a few times before. She leaned forward so that our foreheads touched, and there we remained, in silence, for many minutes.
Earlier this week, my wife, Dear, and I saw two surgeons, both wonderful—by which I mean professionally competent and human. The first said that fast growing tumors like that in Dear's belly were always of concern. She also said we needed more advice than she could provide, specifically from a surgeon specializing in cancer. And so the appointment to see surgeon number two was made for the following day. I mention this chronology because on the way home from that initial meeting it seemed reasonable that the love of my life might die in the foreseeable future. Curiously, my biggest feeling was relief. A burden had been lifted: the burden of so much of the nonsense I take seriously—the various ways I distract myself from bringing all the love I can to the moment I'm in. Too, I felt more deeply the gratitude I always feel whenever I am in Dear's presence, or am even just thinking of her. That gratitude, on the ride home, however, included something new—the awareness that, whatever transpired, I was capable of being a loving force in the face of it. It was as though I had been preparing all our life together for this moment, and I was grateful to feel that I was as ready as I could be to step into a void whose only given was unimaginable loss.
Of course, this could all be horsepatootie and I'm the king of rationalization, but I don't feel so, not completely anyway. Why? Because Dear and I go on more dates than all the celebs in People magazine, and we seldom leave the farm. And when we do venture forth, often as not it's in Lucky the pickup and we're on a date to the feed store for grain. I've been known to put on a tie for such special occasions.
"Never say no to a party," was a favorite maxim of Rita. To her, that meant any gathering of friends and family, or any special outing, such as a flower show or an afternoon at Symphony Hall. To Dear and me, Rita's adage has come to mean opening ourselves to the sacredness inherent in any event, from a walk to the barn, or the touch of our fingers during the night's sleep, to the upcoming appointment with the surgeon who will tell us whether Dear has cancer. Everything can be a date.
Many days have passed since this essay began. Dear's operation went well. "Benign" was the pathology assessment. Recovery from a large incision the only remaining physical implication. Sighs of relief far and wide. Our own relief, Dear's and mine, is primarily for those many children of the next generation who look upon Dear as an elder of joy and playfulness and love and wisdom—an invaluable nurturer in their lives. Thankfully, those kids won't have to grow their own love and wisdom through the loss of Dear in this particular way at this time.
While Dear's good health is certainly my preference, the blessing of this event isn't that we've dodged the Grim Reaper or a prolonged illness or anything like that. The blessing has been how we have grown our love. Sometimes I feel that the number one request of the universe is simply to be willing to make room for whatever presents itself. Few life events are richer than those that test that willingness, those that oblige us to shine a fresh light on our choices, distinguishing what is essential from what is important or urgent or merely habitual. Dear and I, odd as it may sound, were willing to embrace cancer, death, whatever—and all the unknown that came with it. And we were able to do so, in no small measure, from the example of the many elders we have been privileged to know, relatives and others, who, unbeknownst to them probably, have modeled for us the nobility of meeting heartbreak with grace, or at least trying to.
Two of them, to be sure, Bill and Rita. As an English teacher with high standards, married to an editor, it's no surprise that Rita was an engaging writer, cards and letters mostly. One of the last coherent messages she wrote to Dear, a brief note, ended with the words, "I love you to the sky…all rosy pink." This was probably more than a year before Rita entered the Alzheimer's residence. In the interim, Bill, hoping to find a positive way for Rita to help herself through the terror she was experiencing, gave her a journal titled "Count Your Blessings," and encouraged her to record her thoughts and feelings for her children. Predictably, the result is both painful and inspiring to read. The last dated entry was January 10, six months before she left her home for good. Rita wrote:
It's a hard time. I'm very sad. Sometime people have that I have time at know—time—I'm earn their whase—I'd not time yet (unless you send me to Jesus—) most every think I'm a pest. I'm (new sent) I could I could go to "Jesus" because I'm a peck hear—I.
Under that paragraph Rita drew two lines then wrote:
I will be better.
Many empty pages later was her final entry, undated:
I will try to do well for Dad and our children.
This is the woman whose death has officially placed upon Dear and me the mantle of elder in our immediate family. No wonder they say growing old isn't for sissies.