Virtually all organized, responsible business professionals carry them. They are essential. They are the omnipresent symbols of our busy, complicated lives. They are, of course…day planners. And until now they have performed just two functions, where to be or what to do next: the next meeting, the next event, the next task, the next party, the next phone call...
Now there is the Destiny Designer,™ a breakthrough personal calendar/planner that demands your focus on enhancing the fullness and richness of your life as much as it does managing your daily routine. If you use this one-of-a-kind tool every day, you will create the life you most passionately desire!
In our busy lives we often do that which screams for our attention first, not what truly moves our lives forward in a real and fulfilling way. Destiny Designer™ is designed to keep you centered on what is actually important in your life - not merely what you must get done in your profession.
Focus On Your Life... One Day At A Time
STANDARD 6" x 8 1/4" BINDER THAT WILL ACCEPT 4 1/4" x 6 3/4" 6-HOLE PAGES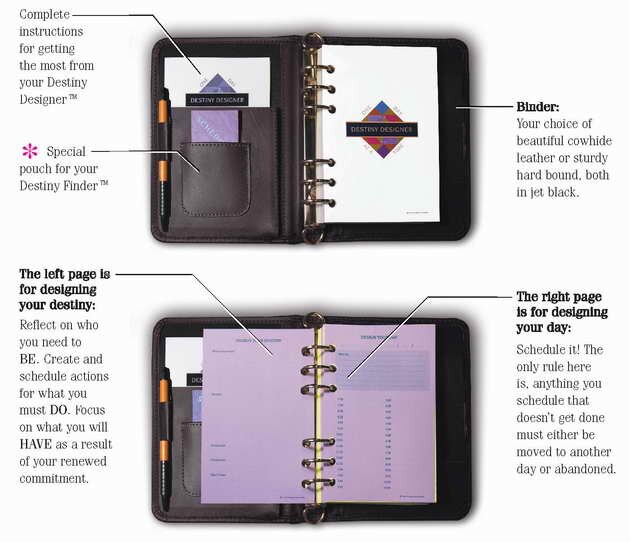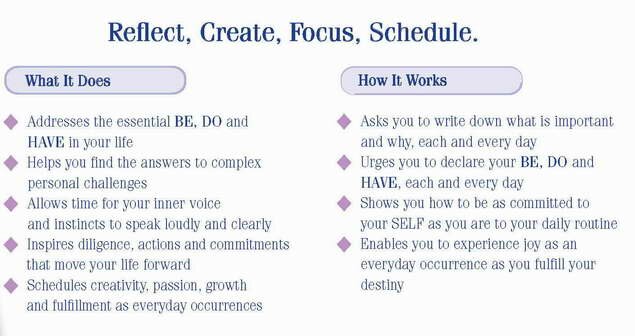 The Creator of The Destiny Designer:
Hi!
For years I had been trying to keep all the daily actions of my life organized, as well as the intentions and commitments that keep me balanced as a person. I wanted to be sure I accomplished my daily duties to work and to family, and also to myself and my personal and spiritual growth. I wanted to make sure I was purposefully creating my life even as I did the actions of the day.
I used many different day planners, but none of them really did what I needed them to do. Finally, I created the Destiny Designer for myself and found that it is a powerful tool in helping me accomplish what's really important. As I schedule my day and write down the things I must do, I use it to reflect on the bigger picture of my life and what I'm really up to.
Since using my Destiny Designer, I can unquestionably tell you I'm so much clearer than I was a year ago about my work and … really, through its focusing capability, about my purpose in life.
I have truly shifted my focus from producing results that mainly satisfied my ego, to teaching what I know and empowering those around me to show their brilliance. As a result, we're all enjoying our work and producing results as a team. It's something I've long touted as a coach and now I feel the experience of it in a very new and real way. Wow, that's pretty neat!
I'm confident that you also will discover what a powerful tool this is in accomplishing the important things in your life, as well as the daily demands.
Sending you love (and the tools to accomplish),
Eileen Joyce