"I believe God was in this man, Ernest Holmes. He was in tune with the Infinite."
Norman Vincent Peale
The Recording: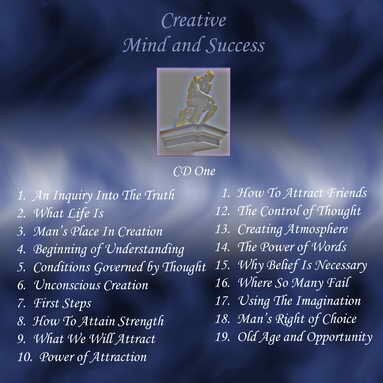 This recording gives you the CONFIDENCE and HOPE to jump out of bed every day and focus on bringing your goals and dreams into reality...You are reminded to create and listen to YOUR OWN encouragement and blot out the negative voices that may surround you and dishearten you.
When things may not always appear to be great, you can listen to this recording regularly and get your thinking back on track. If people say you're destined to fail, Holmes is here to tell you that you will NOT and gives you a specific framework to tell you why you won't - if you take his teachings to heart and apply them daily.
This two CD set is chock full of clear, practical wisdom and guidance to bring into our lives that which we seek, including perfect health, abundance and wealth, the right relationships, fulfilling work and ultimately a deep connection with Spirit.
A masterpiece on the power and impact of our thoughts and words - a "must hear" for anyone who wants to learn how to open the flood gates to greater blessings and bounty.
Ernest Holmes:
Ernest Holmes founded the International Religious Science movement, wrote "The Science of Mind" and numerous other books on metaphysics. Holmes' Science of Mind teaching, recognized today as one of the leading viewpoints in modern metaphysics, is a spiritual philosophy that has brought to people around the world a working cosmology - a sense of their relationship to God and their place in the Universe - and a positive, supportive approach to daily living.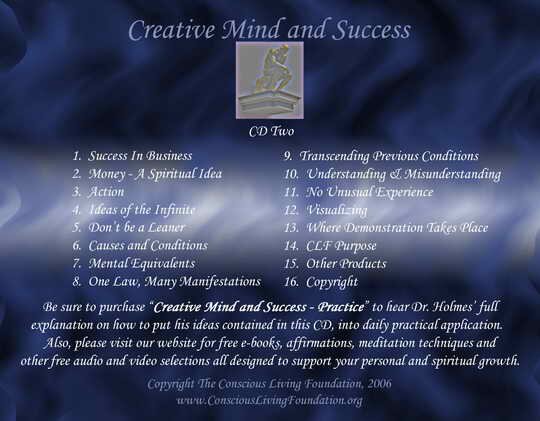 A teacher, writer, and lecturer; Dr. Holmes founded the Science of Mind philosophy in 1927, and regularly appeared on television and radio. His signature saying, "There is a power greater than you in the universe, and you can use it," became well known over the years.
By taking a clear and simple approach in researching the wisdom of the ages from many disciplines, Ernest Holmes developed a practical, spiritual approach to living an abundant life and created the Science of Mind. Since the early 1900's, the Science of Mind Textbook has been the cornerstone to Religious Science churches around the world and a guiding light to truth seekers of all religions.
The Narrator:
William Simpson is a lecturer, teacher and writer on the practical aspects of the spiritual life. He is the Founder of The Conscious Living Foundation, an organization created to encourage and support living with greater awareness and joy.
In addition to directing our organization, Mr. Simpson teaches several classes and workshops including "The Fundamentals of Conscious Living" series and our regular Friday night meditation workshop.
He is the author of "From The Path: Verses on The Mystic Journey" and is currently working on his second book, a practical guide entitled "Stepping Out of The Whirlwind: A Beginner's Manual For A Conscious Life".
He is the author of several audio recordings including "Affirmations That Work", "Quotations And Affirmations" and "Practicing Affirmations – A Practical Guide". Some of his Meditation Guides include "Embracing The Stillness" and "Discovering Spirit". He also wrote and directed "The Ocean At Dusk – A Practical Video Relaxation Guide". In addition, he is the narrator on several other audio books published by The Conscious Living Foundation including "As A Man Thinketh" by James Allen, "Byways To Blessedness" by James Allen, "The Game Of Life" by Florence Scovel Shinn, "The World As I See It" by Albert Einstein and "The Prophet" by Kahlil Gibran.
After having been raised in the Christian church since he was 5, he began his own personal spiritual search in the 1960s through reading and practicing the principles and traditions of various religions including Chan Buddhism and Zen Buddhism. He began his meditational practices within the Zen tradition.
In 1975, he began practicing Kriya Yoga meditation, a form of Raja Yoga offered by Paramahansa Yogananda and Self Realization Fellowship and has continued practicing in that tradition since then. At approximately the same time he became a vegetarian.
In addition to his other responsibilities, he has been a choir director for nearly 30 years and has composed two symphonies and several hundred songs. He is happily married and has 4 children and 1 grandchild.
The Companion CD - "Practice":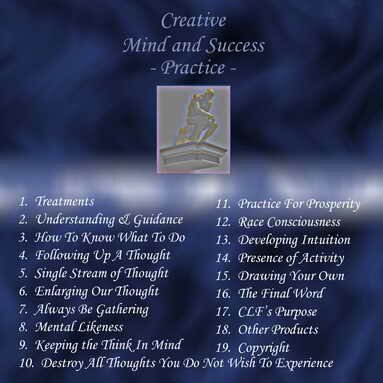 In this third CD, Dr. Holmes offers detailed practical exercises and practices to apply his philosophy on a daily basis.
In order to get results, we must not only listen to the book and understand the theory of the power of mind, we must apply these principles throughout every part of our lives if we truly wish to manifest the positive changes that we seek.
Abundance, overflowing wealth, youthful energy and health, work that we love and relationships that fulfill are all possible if we make the commitment to ourselves to work the principles contained in these recordings.
Includes such topics as: How to know what to do, Practice for Prosperity, Developing Intuition and Drawing your own. This companion CD was also narrated by William Simpson.
Price: $14.95 when purchased separately, or $10.00 when purchased with the 2 CD set.