Free Audio Stories and Plays Download Library
As many of these audio files originated in old radio broadcasts, which we have left unedited, they also contain commercials and other information as it was originally broadcast.
We hope you will enjoy this new addition to our site.
Follow These Links To The Free Audio Stories
To visit our other Free Download Library Sections, click on the following:
(Lectures, Talks, Sermons, Recorded Comments, Classes and Workshops)
(Music from a variety of sources, styles and historical periods)
(Large variety of films and videos, historic and modern, documentary and talks)
(Nature Pictures, Saints, Sages, Gurus, Mandalas, Chakras, Fine Art)
(Complete Plays, Radio Dramatizations, Books Read Aloud
and Stories To Entertain The Entire Family
- With a special collection for children)
(Large Beautiful Pictures with Inspirational Quotes Suitable To Place on The Background of Your Computer Desktop or Screensaver Program.)
We Need Your Help!
If you would like to help in partially covering the costs of maintaining this site, our newsletter and our meditation workshops (all provided at no charge), Please click the "Donate" button. A donation of even one dollar makes a difference.
If you would like to support this work in a
continuing way
, please click the appropriate "Subscribe" button (below) to make a regular monthly donation in the amount of your choice. Thank You for your support. Your contribution also entitles you to a free subscription to our daily affirmation email, "The Conscious Word".
Thank You! By helping us, you are supporting the spiritual growth of tens of thousands of people all over the globe.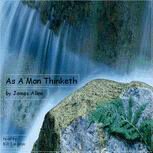 If you don't have time to read "As A Man Thinketh" by James Allen, try listening to it while you drive or go out for a walk. Make use of your time to improve your life.
"He who has conquered doubt and fear has conquered failure. His every thought is allied with power and all difficulties are bravely met and wisely overcome. Thought allied fearlessly to purpose becomes creative force."
This book has inspired millions to begin again, to realize their power to transform their own lives. Now is the time for you to renew your promise to yourself. Listen to the CD every day and feel the difference. As A Man Thinketh $14.95
Give Us Your Suggestions For Other Appropriate Audio Stories -
If you would like to suggest other titles for us to include in this section, email us at .