Videos About Spirituality
We Need Your Help!
If you would like to make a donation (even $1.00 is a help), please click the "Donate" button.
If you would like to make a recurring donation of $5.00 per month, please click the "Subscribe" button.
(This equates to 16 cents a day and can be cancelled at any time.)
Thank you!
By helping us, you are supporting the spiritual growth of tens of thousands.
By Clicking The Button In The Middle of The Screen You can Watch A Large Number of Videos On YouTube That Address The Topic of "Spirituality"

If the initial video which is presented is not of interest, click on either the right or left arrow on the sides of the video screen (< or >) to progress to the next video.

Watch the latest videos on YouTube.com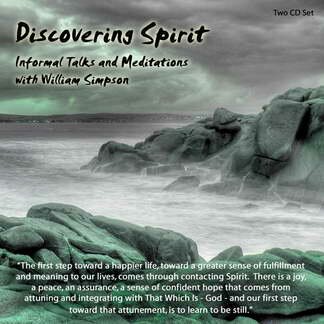 This two CD set was recorded live during various workshops held by The Conscious Living Foundation. CD 1 contains talks on the following topics:
God Is Within

What Do We Do When We're Not Meditating?

Perspective On The Path

God's Forgiveness and Non-Judgment

Sitting In The Stillness

How To Practice Affirmations

The Nature of God
CD 2 contains a guided meditation including practice of chanting "Om" at the chakras, as part of an effort to move the energy up the spine to the higher centers of consciousness. The combined practices on this CD will enhance your ability to relax, internalize your consciousness, aid in stilling the mind, and help place you in a feeling of well-being and peace.
For more information and to hear some sample selections from this new recording, click Here.
Embracing The Stillness is a collection of
meditation techniques
explained and practiced
with the Director of The Conscious Living Foundation, William Simpson.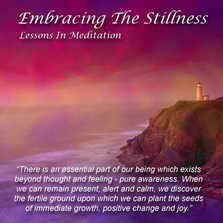 It contains the following tracks:
Discovering The Purpose of Our Lives (2:29)
How To Meditate (3:22)
Meditation on a Devotional Phrase (11:01)
Affirmation for Relaxation and Happiness (6:45)
Learning the Technique of Meditating on Om (5:46)
Meditation on Chanting Om (6:25)
Affirmation for Health, Wealth and Wisdom (8:28)
Sitting in the Stillness (3:31)
Affirmation for Perfection, Immortality and Light (11:25)
Visualization and Prayer for Others (2:44)
What We Believe (1:31)
"There is an essential part of our being which exists beyond thought and feeling - pure awareness. When we can remain present, alert and calm, we discover the fertile ground upon which we can plant the seeds of immediate growth, positive change and joy".
William Simpson -
from "Embracing The Stillness"
To hear some sample selections from this new recording, click Here.
---
- Free Newsletter -

To receive regular updates on new additions to the site, lots of inspiring articles and essays and first opportunity to download our latest free E-books and free audio and video files:
| | | |
| --- | --- | --- |
| | Sign Up For Our Newsletter: | |
Please be assured that your email address will not be sold, rented
or given to any other organization or individual.
To See Our Prior Newsletters, Click Here
---