Payment is made either by Credit Card through the use of PayPal, as described below, or by check or money order made payable to "CLF" and mailed to:
Conscious Living Foundation
1110 Oberlin Drive, Suite 202
Glendale, CA 91205
The Book will be shipped upon verification of payment.
Payment by Credit Card Through PayPal:
If you prefer to pay for our product through the use of a credit card, please click the "Buy" button.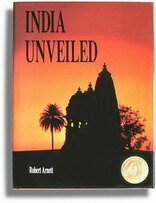 "India Unveiled" - $49.95
To Conclude Your Shopping, Or Review Your Shopping Cart -

Note: Orders in California are subject to Sales Tax of 8.25%
Shipping is by Air Letter Post for shipments outside the U.S. (Approximately 7 days).

If you are making your purchase outside of the United States, please click the Red button, to the left, to add additional shipping charges in the sum of $6.00.