The Author: Mary Peck Stockton
Mary Stockton writes with love and devotion about one of the great spiritual leaders of the 20th century, Paramahansa Yogananda, and his influence on her life as her spiritual leader. She was privileged to know him in person through church services, personal contacts and correspondence.
In response to worldwide requests, she brings a unique perspective to describe such personal aspects as his appearance, mannerisms, church services, and his warmth and concern for all people. She provides detailed accounts of her direct experiences and the spiritual support she received from Paramahansa Yogananda throughout her lifetime. Included in this book is an extensive reporting of spiritual experiences not covered in the article "Never Ending Blessing" that appeared in the summer '97 issue of Self-Realization Magazine.
CLF also offers another book by Mary, entitled "TootleTown Tales" - a collection of stories for children that encourages the cultivation of their moral development. For further information, click Here.
The Book:
This book is Mary Stockton's chronicle of her deep faith in and devotion to her Guru, Paramahansa Yogananda. It gives encouragement and hope to those whose souls are going through "the dark night". Those hearts bewildered with trials will find a succor in the words of Mary - words of one who lived during Master's time, of one who has seen him and conversed with him and, above all, one who has trod the path that her Guru showed her with faith, fearlessness, and total surrender.
The book also includes Mary's supernatural experience in 1983, when her guru took her by the hand and led her to the astral realms. Her vivid descriptions and the sincerity of her words have given a great deal of hope to many who have read it.
Mary is an outstanding example of one who has emerged victorious from the worst kind of life-threatening illnesses. She has undergone fourteen major surgeries, has been paralyzed and a victim of severe accidents - but she has always clung to God and triumphed. This book speaks with utter conviction of the power of prayer and the blessings of the great ones.
Pictures to accompany A Testimony of Love and Devotion
At the suggestion of some of the readers of the book, there are now pictures added to to help illustrate its story. We hope that you enjoy seeing them. They span about 65 years from the first to the last. Unfortunately, there are no unique pictures of Paramahansa Yogananda. However, there are a few of Sri Daya Mata, the current president of Self Realization Fellowship.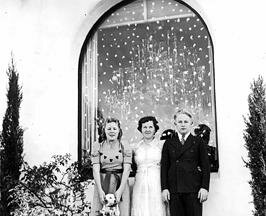 This first picture is from about 1938 taken at the family home in San Diego. We were attending Yogananda's services at the Encinitas temple during that time.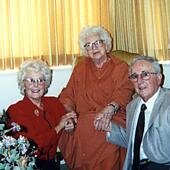 Sri Daya Mata requested that I bring my husband David to meet her the next time we came to Mt. Washington.
Product Details:
Soft Cover (145 pages)
ISBN: 0970980935
Publisher:
Tamaltree Books
P.O. BOX 80764
PORTLAND, OREGON 97280