"And what is it to work with love? It is to weave the cloth with threads drawn from your heart, even as if your beloved were to wear that cloth. It is to build a house with affection, even as if your beloved were to dwell in that house. It is to sow seeds with tenderness and reap the harvest with joy, even as if your beloved were to eat the fruit. It is to charge all things you fashion with the breath of your own spirit..."
Kahlil Gibran -
from "The Prophet"
The Book and the Author:
Kahlil Gibran was born in Besharri in 1883, a town in what is now northern Lebanon surrounded by the famous "Cedars of Lebanon".
In 1895, Gibran's father was investigated and jailed on graft charges. While his father remained in jail, Kahlil's mother and the remainder of the family emigrated to Boston.
In 1906 Gibran published his first book, Spirit Brides (`Ará'is al-Murúj) in New York in Arabic. It created a stir among other expatriate Arab intellectuals by talking about relevant social problems such as oppression of women and religious hypocrisy.
In 1908 Gibran published a second book of short stories in Arabic, Spirits Rebellious and, at 25, he began a two-year stay in Paris where he studied painting.
In 1912 Gibran published Broken Wings, his only novel, a story of love thwarted by greed and convention and male chauvinism. During this time he met and drew `Abdu'l-Baha (1844-1921), then leader of the Baha'i faith. Later, in 1913, Gibran met and drew portraits of Carl Jung.
In 1923 The Prophet was published. Its poetic lyricism and straightforward style made it an immediate success.
The Earth Gods, Gibran's last significant work was published in March of 1931. On April 10th of that same year, Gibran died in a New York hospital. The New York Sun announces in its obituary, "A Prophet is Dead." His body was shipped back to Lebanon, and an immense procession followed his coffin from Beirut to Besharri. In the years since, thousands of visitors have walked the narrow path that leads to the convent of Mar Sarkis, where Kahlil Gibran's body rests.
America is in some ways entitled to claim Kahlil Gibran as one of her own sons as much as his native Lebanon, for he spent only the first twelve years of his life in Lebanon. Apart from two brief return visits to Lebanon and the two years he spent in Paris, he lived out the last two-thirds of his life, including virtually all of his adulthood, entirely on American soil. It was in New York that he died at the age of 48.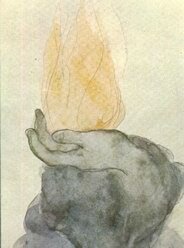 Payment is made either by Credit Card through the use of PayPal, as described below, or by check or money order made payable to "CLF" and mailed to:
Conscious Living Foundation
1110 Oberlin Drive, Suite 220
Glendale, CA 91205
The CD will be shipped upon verification of payment.
Payment by Credit Card Through PayPal:
If you prefer to pay for our product through the use of a credit card, please click the "Buy" button.
PRICE: $19.98
To Conclude Your Shopping, Or Review Your Shopping Cart -

"The Prophet" Audio Book on 2 CDs
Note: Orders in California are subject to Sales Tax of 8.25%

If you are making your purchase outside of the United States please click the Red button, to the left, to add additional shipping charges in the sum of $6.00. Your order will be sent Global Priority Mail and usually delivered within 3 -5 days.