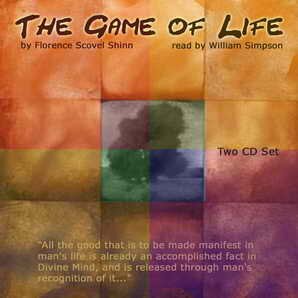 "When man can wish without worrying, every desire will be instantly fulfilled... Fear is man's only enemy - fear of lack, fear of failure, fear of sickness, fear of loss and a feeling of insecurity on some plane... We must substitute faith for fear, for fear is only inverted faith; it is faith in evil instead of good..."
Florence Scovel Shin -
from "The Game of Life"
The Book and the Author:
Florence Scovel Shin was born in 1871 in Camden New Jersey. She was educated in Philadelphia and studied art at the Pennsylvania Academy of Fine Arts. It was there that she met her future husband, Everett Shinn, who was a fairly celebrated impressionistic painter.
Before World War 1 she was an illustrator of popular children's literature in magazines and books.
In 1925, having been unable to find a publisher for "The Game of Life and How to Play It" she published it herself. "Your Word is Your Wand" was published in 1928 and "The Secret Door to Success" was published in 1940 shortly before her death on October 17, 1940.
Despite this meager information about her life, her books have inspired thousands of people for several decades.
She remains an outstanding proponent of the power of thought. Throughout this recording, examples of positive thoughts and the influence they have on our life's experiences are laid out in entertaining detail. Abundance, prosperity, healing, vital health, wealth, increased creativity and attunement with Spirit are all results that Ms. Shin experienced in her life and she explains with real-life examples how our lives can be lived in a more positive and conscious way.
As Dr. Norman Vincent Peale said, "The Game of Life is filled with wisdom and creative insights. That its teachings will work I know to be fact, for I've long used them myself."
Please download the free sample audio files below, and see if her wisdom and insight might inspire you to greater health, wealth and abundance too.
"The object of the game of life is to see clearly one's good and to obliterate all mental pictures of evil. This must be done by impressing the subconscious mind with a realization of good. " Florence Scovel Shin - "The Game of Life"
Payment is made either by Credit Card through the use of PayPal, as described below, or by check or money order made payable to "CLF" and mailed to:
Conscious Living Foundation
1110 Oberlin Drive
Glendale, CA 91205
The CD will be shipped upon verification of payment.
Payment by Credit Card Through PayPal:
If you prefer to pay for our product through the use of a credit card, please click the "Buy" button.
PRICE: $19.98
To Conclude Your Shopping, Or Review Your Shopping Cart -

"The Game of Life" Audio Book on 2 CDs
Note: Orders in California are subject to Sales Tax of 8.25%

If you are making your purchase outside of the United States please click the Red button, to the left, to add additional shipping charges in the sum of $6.00. Your order will be sent Global Priority Mail and usually delivered within 3 -5 days.