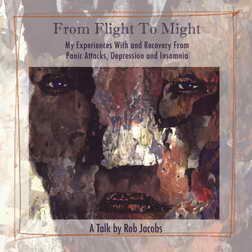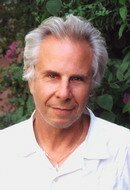 Rob Jacobs
"From Flight To Might"
The Speaker:
Rob Jacobs was born in Brooklyn, New York, in 1939, and grew up in Los Angeles
where he moved at the age of five. Much of his life has been centered around music, art and
health issues. His work, in the field of commercial art, was as a photo retoucher to
the advertising and entertainment industries. His dream, however, was to produce
his own images, and this was implemented in 1990. You will find examples of his art Here.
Along with his art and spiritual path, he feels that the biggest part of his life's work is
telling his story of his nervous issues in the hope that others will be motivated to seek the
help they need. Rob has two sons, Seth and Ethan.
The Recording:
With the arrival of this new audio CD by Rob Jacobs, in October 2005, the potential of
help for the serious issues of panic attacks, depression and insomnia greatly increases. This presentation emotionally describes Rob's experiences, from the inception of the attacks in 1976,
through the period of depression in 1980, to the unbelievable year of basically no sleep,
and finally, with the help of two compassionate chiropractic physicians, Doctors Peter Evans
and Gordon Durand, the holistic process leading to his recovery and peace.
Rob Jacobs takes us through the basic components of life – the mental, emotional, physical
and spiritual. He specifically discusses the areas of diet, correct breathing technique,
exercise, social support, right attitude, discharging of hurt and anger, relaxation,
meditation and spiritual values, and he leads us through these issues with love, a sense
of humor and respect for everyone going through these very difficult challenges.
Two unusual events took place that would eventually bring about this present project.
The first was a set of tapes that Doctor Evans handed Rob one day entitled From Panic to
Peace by Jack Yianitsas; this "magical" set of cassettes had a great influence in the
progression of Rob's recovery. The second event, also with Doctor Evans, took place after
they had been working together for approximately one year. Taking Rob aside, Doctor
Evans told him, that as he recovered from the difficult issues he had been going through,
others would seek him out for information and emotional support, as they went through their
own experiences of recognizing and overcoming their nervous disorders. This statement
turned out to be absolutely accurate and true.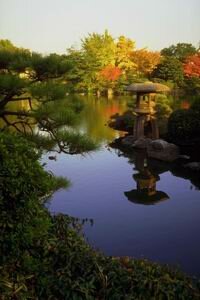 Payment is made either by Credit Card through the use of PayPal, as described below, or by check or money order made payable to "CLF" and mailed to:
Conscious Living Foundation
1110 Oberlin Drive, Suite 220
Glendale, CA 91205
The CD will be shipped upon verification of payment.
Payment by Credit Card Through PayPal:
If you prefer to pay for our product through the use of a credit card, please click the button labeled "Buy".
PRICE: $14.95
To Conclude Your Shopping, Or Review Your Shopping Cart -

Note: Orders in California are subject to Sales Tax of 8.25%

If you are making your purchase outside of the United States please click the Red button, to the left, to add additional shipping charges in the sum of $6.00. Your order will be sent Global Priority Mail and usually delivered within 3 -5 days.