""You must be the change
you wish to see in the world

."
-
Mahatma Gandhi
As I Change My Mind I Change My Life
"Love is a fruit, in season at all times and within the reach of every hand. Anyone may gather it and no limit is set. Everyone can reach this love through meditation, the spirit of prayer, and sacrifice."
- Mother Teresa
I must be the change
I wish to see in the world.
"I don't know what your destiny will be, but one thing I do know: the only ones among you who will be really happy are those who have sought and found how to serve."
- Albert Schweitzer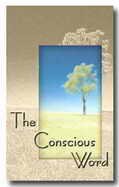 You already know that practicing affirmations is a great way of improving your health, increasing your happiness and awakening your receptivity to prosperity and all the good you desire in your life. Now The Conscious Living Foundation has created a new method of supporting you in your efforts.
The Conscious Word contains an inspiring affirmation, with instructions on how to practice it, emailed directly to you each day of the year. By practicing the affirmation which we email to you for 3 to 4 minutes a day, you create an effective tool that will help you experience an ongoing positive change in your life.
Now is the time to make a new effort to take control of your life with just one small step toward the positive changes you've been seeking. For more information and an example issue, just click Here.
I am poised and powerful.
My greatest expectations are
Realized in a miraculous way.
(An affirmation from "The Conscious Word" daily affirmation)
The gateways to wisdom and knowledge are always open.
"Lord, make me a channel of Your peace,
that where there is hatred, I may bring love,
where there is wrong, I may bring the spirit of forgiveness,
where there is discord, I may bring harmony,
where there is error, I may bring truth,
where there is doubt, I may bring faith,
where there is despair, I may bring hope,
where there are shadows, I may bring light
and where there is sadness, I may bring joy.
Lord, grant that I may comfort, rather than to be comforted,
that I may understand, rather than to be understood
that I may love, rather than to be loved.
For it is by forgetting self, that one finds
it is by forgiving, that one is forgiven
it is by dying that one awakens to eternal life."
- Saint Francis
Today I neither succeeded nor failed...
I just got closer to my goal
Thy wisdom guides me,
Thy presence dwells within me,
Thy love keeps me and
Thy life envelops me now and forevermore
(An affirmation from "The Conscious Word" daily affirmation)
We all now understand the power of practicing Affirmations. We can take control of our lives by taking control of our thoughts.
This collection of 20 affirmations on CD, gives you the powerful thought seeds that you can cultivate through daily practice. Turn your driving time into productive time and change your life! Affirmations That Work - $14.95