Thought is the blossom; language the bud; action the fruit behind it.
Ralph Waldo Emerson
Clear therefore they head, and rally, and manage thy thoughts rightly, and thou wilt save time, and see and do thy business well; for thy judgment will be distinct, thy mind free, and the faculties strong and regular.
William Penn
Thoughts of themselves have no substance; let them arise and pass away unheeded. Thoughts will not take form of themselves, unless they are grasped by the attention; if they are ignored, there will be no appearing and no disappearing.
Ashvaghosha
Action without thought is like shooting without aim.
American proverb
One love it is that pervades the whole world,
few there are who know it fully:
They are blind who hope to see it by the light of reason,
that reason which is the cause of separation –
The house of reason is very far away!
Kabir
Be a Columbus to whole new continents and worlds within you, opening new channels, not of trade, but of thought.
Henry David Thoreau
Reason is like an open secret that can become known to anyone at any time; it is the quiet space into which everyone can enter through his own thought.
Karl Jaspers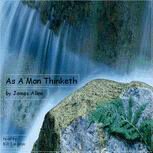 If you don't have time to read "As A Man Thinketh" by James Allen, try listening to it while you drive or go out for a walk. Make use of your time to improve your life.
"He who has conquered doubt and fear has conquered failure. His every thought is allied with power and all difficulties are bravely met and wisely overcome. Thought allied fearlessly to purpose becomes creative force."
This book has inspired millions to begin again, to realize their power to transform their own lives. Now is the time for you to renew your promise to yourself. Listen to the CD every day and feel the difference. As A Man Thinketh $14.95
The happiness of your life depends on the quality of your thoughts: therefore, guard accordingly, and take care that you entertain no notions unsuitable to virtue and reasonable nature.
Marcus Aurelius
Just because we increase the speed of information doesn't mean we can increase the speed of decisions. Pondering, reflecting and ruminating are undervalued skills in our culture.
Dale Dauten
As by knowing one lump of clay, dear one,
We come to know all things made out of clay –
That they differ only in name and form,
While the stuff of which all are made is clay;
As by knowing one gold nugget, dear one,
We come to know all things made out of gold –
That they differ only in name and form,
While the stuff of which all are made is gold;
As by knowing one tool of iron, dear one,
We come to know all things made out of iron –
That they differ only in name and form,
While the stuff of which all are made is iron –
So through spiritual wisdom, dear one,
We come to know that all of life is one.
The Chandogya Upanishad
Man is made or unmade by himself. In the armory of thought he forges the weapons by which he destroys himself. He also fashions the tools with which he builds for himself heavenly mansions of joy and strength and peace.
William James
A man is what he thinks about all day long.
Ralph Waldo Emerson
We can accomplish almost anything within our ability if we but think that we can! Every great achievement was first carefully thought out...Think--but to a purpose. Think constructively. Think as you read. Think as you listen. Think as you travel and your eyes reveal new situations. Think as you work daily at your desk, or in the field, or while strolling. Think to rise and improve your place in life. There can be no advancement or success without serious thought.
George Matthew Adams
All that we are is the result of what we have thought.
The Buddha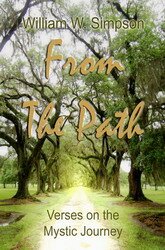 It's time to read this inspiring collection of spiritual poetry written by the founder and Director of The Conscious Living Foundation, William Simpson. From The Path - Verses on the Mystic Journey - $11.99.
Find out why the critics are saying, "...sheer joyful wisdom, wonder, warmth and wild beauty... The language is stunning... I think From The Path is more than just a book of poems. It is a way of thinking and being that comes from our connection with language and the power of words." - BookIdeas.com
"A spiritual bullet that will penetrate your soul with excitement for the written word.. poems filled with inspiration about... faith, love and beliefs. An appealing book of wisdom... a wonderful gift or tool for your own soul searching." - Midwest Book Review
A man's mind may be likened to a garden, which may be intelligently cultivated or allowed to run wild; but whether cultivated or neglected, it must, and will, bring forth...

Just as a gardener cultivates his plot, keeping it free from weeds, and growing the flowers and fruits, which he requires, so may a man tend the garden of his mind, weeding out all the wrong, useless, and impure thoughts, and cultivating toward perfection the flowers an fruits of right, useful, and pure thoughts. By pursuing this process, a man sooner or later discovers that he is the master gardener of his soul, the director of his life. He also reveals, within himself, the laws of thought, and understands, with ever-increasing accuracy, how the thought-forces and mind-elements operate in shaping his character, circumstances, and destiny.
James Allen