If your heart were sincere and upright, every creature would be unto you a looking-glass of life and a book of holy doctrine.
Thomas a Kempis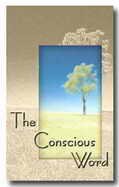 The Conscious Word - Daily Affirmations Emailed Directly To You -
You already know that practicing affirmations is a great way of improving your health, increasing your happiness and awakening your receptivity to prosperity and all the good you desire in your life. Now The Conscious Living Foundation has created a new method of supporting you in your efforts.
The Conscious Word contains an inspiring affirmation, with instructions on how to practice it, emailed directly to you each day of the year. By practicing the affirmation which we email to you for 3 to 4 minutes a day, you create an effective tool that will help you experience an ongoing positive change in your life.
Now is the time to make a new effort to take control of your life with just one small step toward the positive changes you've been seeking. For more information and an example issue, just click Here.
And you shall love the Lord with all your heart, and with all your soul, and with all your might.
And these words, which I command you this day, shall be upon your heart: and you shall teach them always to your children, and shall talk of them when you sit in your house, when you walk by the way, when you lie down, and when you arise.
The Torah (The Shema)
Everyone sees the Unseen in proportion to the clarity of his heart, and that depends upon how much he has polished it. Whoever has polished it more sees more – more Unseen forms become manifest to him.
Jalaluddin Rumi
The Self is hidden in the lotus of the heart. Those who see themselves in all creatures go day by day into the world of Brahman hidden in the heart. Established in peace, they rise above body-consciousness to the supreme light of the Self. Immortal, free from fear, this Self is Brahman, called the True. Beyond the mortal and the immortal, he binds both worlds together. Those who know this live day after day in heaven in this very life.
The Chandogya Upanishad
Let us begin to be devoted to him in good earnest. Let us cast everything besides out of our hearts. He would possess them alone. Beg this favor of him. If we do what we can on our part, we shall soon see that change wrought in us which we aspire after.
Brother Lawrence
Ah, Lord God, thou holy lover of my soul, when thou comest into my heart, all that is within me shall rejoice.
Thou art my glory and the exultation of my heart: thou art my hope and refuge in the day of my trouble.
Thomas a Kempis
As butter lies hidden within milk,
The Self is hidden in the hearts of all.
Churn the mind through meditation on it;
Light your fire through meditation on it:
The Self, all whole, all peace, all certitude.
The Amritabindu Upanishad
None has a place in my heart but thee.
My heart has become thy abode;
It has no place for another.
Ansari of Hera
If You Would Like To Make A Donation
To partially cover the costs of maintaining this site,
Please click the "PayPal" button below.
Thank You for your support.