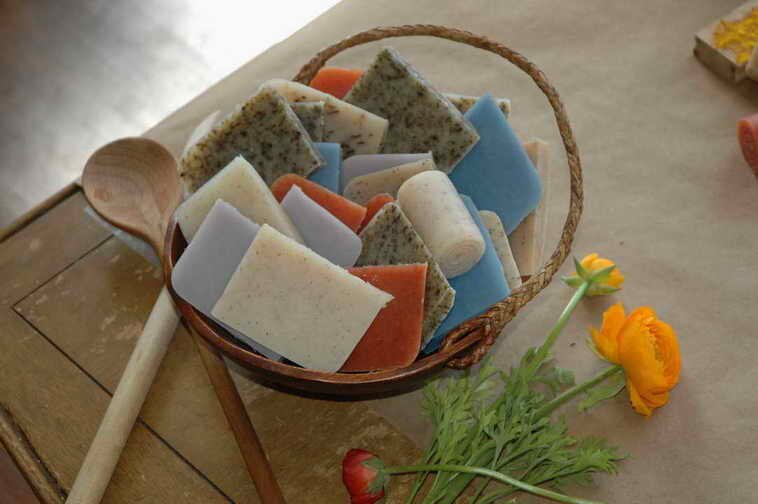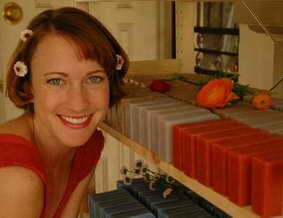 Hi,
My name is Erin and I'm the owner of Lady Maxick's Soapery. It's my great blessing to have been swept into the meditational and heartwarming work of soap crafting. Read on for fun facts and details about my journey.
I know you will enjoy using my soap as much as I enjoy making it.
Happy sudsing!
Erin
How Did I Get Started Making Soap?
Many years ago my sister Brooke took a backpacking trip to Switzerland. On her journey, she met an old time soap mistress named Frankie who eventually made her way to San Clemente, CA to visit my sister and mentor her in the craft. Throughout her apprenticeship, my sister's little bungalow by the sea was alive with calming soapy breezes, big bowls of crushed herbs and … many friends and neighbors peeking in, hoping for chunks of soap for themselves. I was immediately drawn in!

I began working along side my sister and we refined our process, pouring over an old battered soap book that Frankie had left us with (full of her own hand scrawled notations, olive oil stains and secret tips and techniques). I cherish this little book and it sits atop of one of my soap curing shelves as we speak. I take it down from time to time for inspiration! And, I still use one of Frankie's wooden spoons! (A few of my soaps are Frankie's original creations! Can you guess which ones?)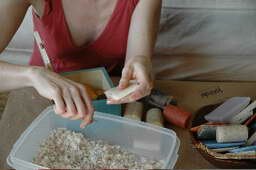 My Soap Making Process:
Every batch of our soap is brewed by hand (by me!) in the time honored "Kettle Method". This means big pots, wooden spoons and lots of arm muscles!
There is much preparation all leading to the thrilling moment when I pour the temperature perfect lye or 'sodium hydroxide', into the hot oils melted in my kettle and watch as the magic begins! Immediately, the hand stirring phase (with the handed down Frankie spoon!) gets under way. I stir and stir, thinking peaceful wishes, expansive thoughts, and simple prayers for the friends and strangers who will find sudsy enjoyment in the bars to come! Something specific for each batch!

Around 12 minutes, when the mixture begins to "trace", time becomes of the essence. Precise action is required so the soap doesn't cool prematurely! With one last stir, I add crushed botanicals and put the soap "to bed" - pour the creamy liquid into molds to be kept cozy under layers of warm woolen blankets (for 20 hours) to allow the soap to continue the process on its own.

Next the lids come off! I gently remove the firm soap and place it on my curing shelves where it spends another 24 hours in the open air.

And at long last – I hand cut the blocks of soap into fresh fragrant bars with my custom wooden soap cutter and trim them to perfection!
I'm always tempted to grab a few bars and jump into a bath right there and then! Of course it's best to wait a couple of weeks to let retained water evaporate out of the bar, but … sometimes a girl can't help herself!
Why Handmade?
Hand made soap retains precious vegetable "glycerin" - a natural humectant which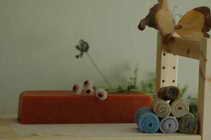 attracts moisture to your skin. Did you know that glycerin is removed by commercial soap manufacturers for use in their more profitable products like lotions and resold to the consumer to combat the effects of drying soap? Not with hand made! Your skin will be naturally soft and nourished.

My hand made soap is created with fully disclosed, simple, healthy ingredients. Only the best, made with love!

No animal fats ~
No synthetic detergents ~
No chemical hardeners ~
No artificial preservatives ~

Hand made soaps soothe the soul.

*Do you know the largest organ in your body? That's right, your skin! Created to breath, regulate temperature, generate new cells, protect your insides, and allow for a sense of touch, your skin is a miracle. Treat yourself with care!

The Ingredients:
Our soap is made with the highest quality food grade (please don't eat, though you will be tempted!) olive, coconut and soybean oils. Textured and colored with crushed organic roots, herbs, or FDA approved colorants. Aromatic oils and explosive suds!

Each bar is approx. 6ox., individually cut and trimmed by me, Erin!

Get To Know Your Soap:
These oils were chosen for their extra special qualities.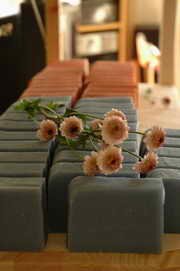 Olive oil – Pressed or extracted from the fruit of the olive tree, this rich golden oil is the ultimate healing moisturizer, luxurious in the final bar.
/smaller> /fontfamily> Coconut oil/smaller> /fontfamily> - Extracted from the meat or "copra" of the cocount, this incredibly mild and soothing oil (firm at room temperature!) creates lots of glycerin and /smaller> /fontfamily> imparts a bubbly lather.
Soybean oil – Replaces tallow for a cruelty free, all vegetable based bar. Contributes mildness, firmness and creates a long lasting bar of soap that won't melt away!

~ A Few Tidbits ~

Keep Lady Maxick's Soapery soap on a dish that drains.

If used in the shower (definitely recommended for happy, soft skin!) keep soap in a spot out of the direct spray of water.

Men love Rain, Fig, Lemon Verbena and believe it or not, mild Honeysuckle!


Payment is made either by Credit Card through the use of PayPal, as described below, or by check or money order made payable to "CLF" and mailed to:
Conscious Living Foundation
1110 Oberlin Drive, Suite 202
Glendale, CA 91205
Our soap will be shipped upon verification of payment. If you are paying by check, be sure to include $1.50 shipping for each 2 bars of soap that you purchase.
Payment by Credit Card Through PayPal:
If you prefer to pay for our soap through the use of a credit card, please click the appropriate "Buy" buttons - below: